Bathroom Remodeling In Rancho Santa Margarita
Are you searching for a competent Bathroom Remodeling organization in Rancho Santa Margarita to remodel your kitchen or bathroom? Or maybe you need to install new floors at your house and not sure what type of flooring will be the ideal choice? Here at James Remodeling we are totally aware that any home remodeling task can be demanding and can over-whelm homeowners. That's why our qualified home remodeling experts will meet with you to listen to your ideas and assist you through the entire process. Believe it not, a home remodel can be fun and exciting if you hire the right team of designers and installers to assist you with your project. Give us a call today and let's meet for a free no obligation consultation in our showroom or at your home.
James Remodeling is a family owned and operated home remodeling business with its showrooms in Mission Viejo California. At James Remodeling we believe any home should be taken care of as a sacred sanctuary. At the core of every home is a kitchen. We believe a kitchen not only needs to be well-designed and accessible but also really reflective of the owner's personality and lifestyle.
For over a decade, hundreds of customers all through Orange County have entrusted us with their kitchen and bath remodeling and new flooring projects. Because of this, it is our responsibility to listen and focus on each of our client's requirements and wishes. Whether the project is an investment property, a client's home or the place in which you expect to spend the rest of your life, you can look forward to James Remodeling to provide excellent products, dedicated customer service, and great value. When it comes to finding the best Bathroom Remodeling company in Rancho Santa Margarita, your search will be over with us.

Kitchen Remodeling in Rancho Santa Margarita
Have you thought of improving your kitchen and looking for the best Kitchen Remodeling company in Rancho Santa Margarita? The best kitchen remodeling in Orange County starts with simply a phone call with one of our customer service staff. We'll take your kitchen wants and needs into account, and then visit your home to make the required measurements and evaluations. From there, we'll move on to the design stage, where we create a plan of action to make sure your ideas for kitchen remodeling in Rancho Santa Margarita all come true. Once we've decided on the best materials and products for your project, we'll start the building stage of your remodeling project. We are your one-stop source for Bathroom Remodeling in Rancho Santa Margarita and neighboring cities.
Bath Remodeling in Rancho Santa Margarita
You might have been thinking about remodeling your bathroom but not sure how to go about it? James Remodeling can assist you to get the best in bathroom remodeling in Rancho Santa Margarita and adjacent cities. After all, your bathroom is an important part of your home. Help to make your time in the bathroom enjoyable with a bath remodel. From walk-in baths and jetted tubs to shower installations, new bathroom counters to setting bath tiles, we are able to easily do it all. Through our amazing craftsmanship, you will love your bath again!
After a free estimate, our bathroom remodeling contractors will assist you to resource the finest materials and products. Our skilled staff will assist you to design a bath remodel enhancement that can be sure to last for a long time and give you the best return on your investment. Accomplishing great design within customers' bath remodels is exactly what we do best. With different digital shower choices, walk-in tub designs, floor tiles and more to choose from, the possibilities are never-ending in your ability to create a luxurious bathroom. We can help you with a small bath remodeling to a full master bathroom remodeling. Call or visit our showroom for a free consultation today.
Kitchen Cabinets in Rancho Santa Margarita
Are your kitchen cabinets look outdated and you want to exchange them with new cabinets? When considering kitchen cabinets installation, you have two options: Prefab cabinets and custom cabinets. We can help you with both kinds of kitchen cabinets depending on your budget. We have installed durable kitchen cabinets in Rancho Santa Margarita for over two decades. We work only with cabinet manufacturers that offer the top quality cabinets for kitchen and bath.
As a superior home remodeling contractor in Rancho Santa Margarita, we know you are concerned about the kitchen cabinets prices. When you hire us to install your new cabinets, you can be sure not only you are getting the most experienced installers but also the most competitive prices.

Kitchen Countertops in Rancho Santa Margarita
Kitchen countertops can entirely change the look of your kitchen. Quartz countertops are in and most of homeowners choose elegant quartz countertops over conventional granite countertops. Here are James Remodeling we have installed 100s of kitchen countertops in the last two years alone, so we know how to make your kitchen countertop look its best without breaking your bank account. Don't worry about the kitchen countertop prices. Our vendors are willing to give us the lowest price on durable quartz and marble countertops and our experienced installers are among the very best installers in Orange County. You can rely James Remodeling to install the top kitchen or bathroom countertop at a very affordable price. Call us or fill out the form below for a free no obligation consultation today. Installing elegant kitchen countertops in Rancho Santa Margarita can not get easier when you hire us to take care of it.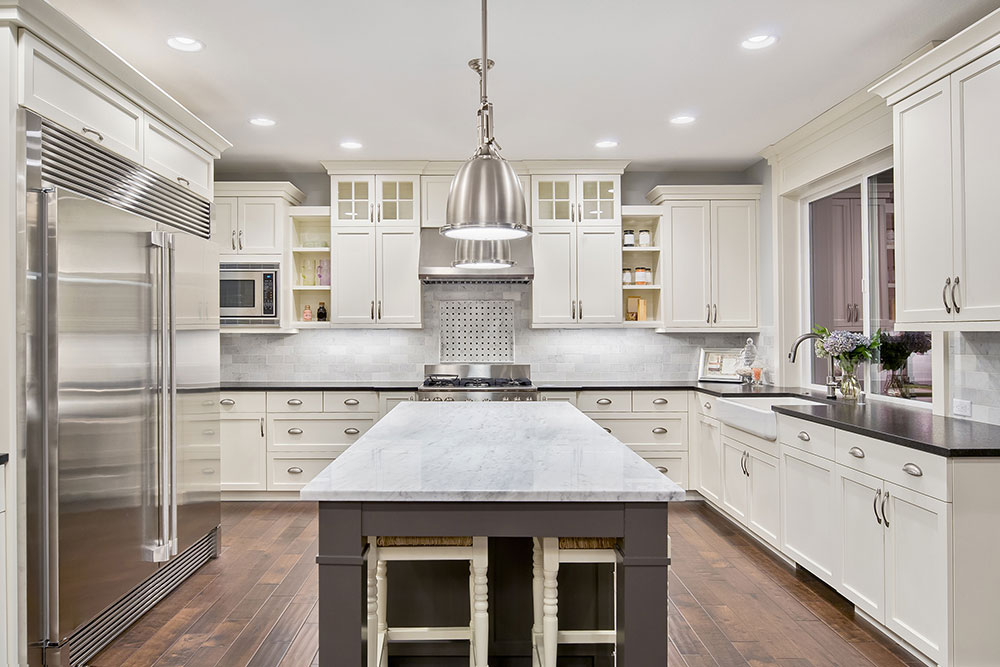 Flooring Services
If you are looking around for a flooring company in Rancho Santa Margarita to replace your old flooring, you can come to the right place. James Remodeling has the best quality flooring material at the most compatible prices for your home or office. Our guru installers will install your dream flooring in the shortest time possible. Whether you need wood flooring, carpet, luxury vinyl, laminate, tile flooring, or stone flooring, we not only have a huge inventory of most favored flooring material in our showroom, our flooring installers will charm you by their craftsmanship and fast delivery.
Bathroom Remodeling in Rancho Santa Margarita
James Remodeling is the best Bathroom Remodeling in Rancho Santa Margarita? We are the only home remodeling company you need for all your Bathroom Remodeling needs in Rancho Santa Margarita California. With over two decades of experience in home remodeling projects, we strive on serving our clients the best way possible while making the cost affordable. We realize when it comes to home remodeling you may have many choices. That's why we wish to offer you a free in-home consultation so we can show you our past projects, discuss your project at hand and offer free advice to save you time and money. Please fill out the form below for a free estimate or a free in-home consultation: